Lesvos island with extent 1632 km2, is the
third in size island of Aegean, afterwards Evia and Crete. It abstains about 190 naval miles from Piraeus and fascinate the visitor with the dense olive groves and beaches that dispose of.
Is fibres mountainous, with rich vegetation in Eastern and in the centre, while in the Westerners she is barren and rocked. There we find (region Sjgri) the apolithomeno forest, that cover under the lava of volcano before millions years.
Prehistoric discoveries testified the human presence in the island 3000 times p.H.
At being 10o century p.H. are located in the island the Aioleis. The poetry and the culture is big, with Sapfo and Alkaio,
General opinion of Mitilini. Are distinguished the Castle and boats of Naytiliaki company of Lesvos (NEL).
Apolithomeno trunke of tree.
Pittako one from the seven sages of antiquity. On centuries it changes souvereigns: Perses, Macedonian, Athinaioi, Spartjates, Pontioi, up to 80 p.H . roughly, that the Lesvos includes in the Roman Empire.
Up to 961 m.H. that becomes the recuperation of Island from the Byzantine Empire, agonize from the rise of Islam and the expeditions of Arabs. With the decline of Byzantium, accept attacks from Turkish, Enetoys and Sarakinoys. In 1355 the Byzantium grants
Lesvos in their Gateloyzoys, a Genoveziki family. The Gateloyzoi him manage effective for one century. Then build also the castle of Mitilini that is saved up to today.
The 1462, after siege, the Ottoman Turkish , occupy the island, which despite the efforts at the Greek Revolution 1821 remains in their hands up to 8 November 1912.
The castle of Mytilini .
At 8 November 1912 the admiral Koyntoyriotis with the Greek fleet occupies the city of Mitilini and one month more slow, after battle, is released entire the Lesvos.

After the Mikrasiatiki destruction 1922 roughly 24.000 refugees are located permanent in the island.

In the Second World War, German troops him occupy in 1941. It is released in 1944 .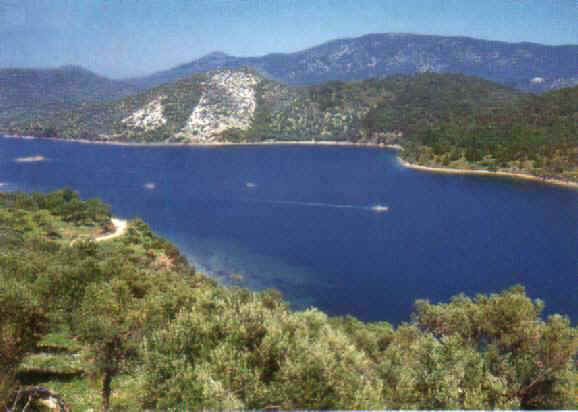 The gulf of Geras. Is considered one from
the more beautiful gulves of Greece.
---