Report by transition year students of Colaiste an Chraoibhin
On September 16 at Cork Airport a group of thirty Greek students and six teachers from the Experimental Gymnasium of Mytrlene from Lesvos island, Greece were welcomed by students of Colaiste an Chraoibhi'n. This visit was the result of an EU co-ordinated project called 'Energy Education In Schools'.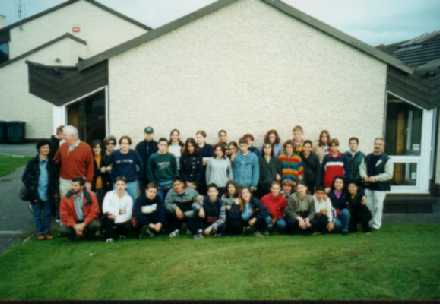 After a visit by Principal John Hennessy and teacher Liz O'Riordan to the school in Mytrlene, an energy team was created involving the current Transition Years of Colaiste an Chraoibhi'n. The objective of this energy team was to assess the use of energy in the school and make suggestions to improve the situation if possible. The result of this was a newslet­ter that gave small and cheap tips to save energy. The promotion of energy awareness at Colaiste an Chraoibhi'n culminated in this visit of Greek students to Fermoy and the exchange of ideas by all guaranteed a learning experience never to be forgotten.
SUNDAY, SEPTEMBER 17
The Greek students were introduced to a part of Irish culture when they were accompanied by the team from Colaiste an Chraoibhi'n to see a traditional game of Gaelic football between Glanworth and Killavullen in the Fermoy GAA grounds. After their lunch in The Forge the organised sporting events and opportunities to send e-mails home. This was followed by a table quiz and evening meal.
MONDAY, SEPTEMBER 18
This morning saw the energy team from Mallow energy office, give a lecture on energy conservation to our Greek visitors. The group then climbed Mount Corrin. On the return trip, everybody stopped at the driving range to practice their golf swing. After dinner Mr Oilie Griffin gave a demonstration of traditional Irish set dancing at the school. The students also got an opportunity to dance an Irish jig.
TUESDAY, SEPTEMBER 19
Another talk was given by the energy team in Mallow on renewable sources of energy. Then our Greek friends presented projects which they did on the same subject.. That afternoon in the Open Mind Theatre at Colaiste an Chraoibhi'n, we were entertained by Colaiste an Chraoibhi'n pupils who played traditional Irish music.Our Greek visitors then gave a display of Greek dancing to us. That evening at the UDC office in Fermoy a warm civic reception attended by a selection of local councillors was hosted by Mr John Murphy, Chairman of Fermoy UDC. The Chairman made a presentation to the Principal of the Experimental Gymnasium of Mytilene in Greece, Mr Vassilis Nianios wishing him and his team happy memories of their visit to Colaiste an Chraoibhin and Fermoy.
On Wednesday morning the Greek students, accompanied by us Transition Year pupils, departed from Colaiste an Chraoibhin at 9.30am heading for Spa House, Energy Centre, Mallow. On arrival we were greeted by Pat Walsh and other members of the energy team. All pupils were given a guided tour of Spa House and its beautiful surroundings.
We also visited a local primary school, St Patrick's Boys National School, which took part in an energy project. Once finished with the tour we travelled onwards to the Millstreet Country Park. Millstreet Country Park is renowned for its breathtaking landscape and theme gardens. The Greek students also got the exciting opportunity to view and photo one of Ireland's well known ancient dwellings, The Crannog. The students toured the beautiful surroundings of the Park in one of the many Park transporters. After a fun filled, tiring day, we travelled on the Killarney International Youth Hostel, where we spent the night.
Next morning, feeling refreshed and after breakfast, we set out to begin the Ring of Kerry. The Greek students got the chance to photograph the beautiful landscape and surroundings of Kerry. Lucky enough the weather remained excellent which made our day a lot more enjoyable for site seeing. One of the main attractions of our tour of Kerry was visiting the magnificent Tore Waterfall. Here, the students got to view one of Ireland's most majestic and attractive waterfalls in the country. It was the perfect setting for groups photos.
As we ended our tour of the Ring of Kerry, it brought us back to where we had begun, Killarney. The students got time to do some gift shopping in the various shops of Killarney, before travelling onwards to Muckross House. Here, the students got to explore and learn of the ancient style in which houses were decorated many years ago in Ireland. After an exciting day of site seeing we returned home to Fermoy at 8 o'clock Thursday night. All students, accompanied by their teachers, returned to their accommodation for a good nights sleep.
On Friday morning the students gath­ered in the school for an energy conservation seminar. This seminar was conducted by Ed Cuthbertson and Morty Scanlan of Science Works in Tralee. The Greek students were entertained with the various demonstrations and comical antics. Everyone was greatly amused to learn of how a plasma ball can turn us into human light bulbs. The seminar went down a treat with everyone and afterwards we travelled to Blarney Woollen Mills. Here, the Greek students got the chance to visit one of the finest gift and craft centres in Ireland.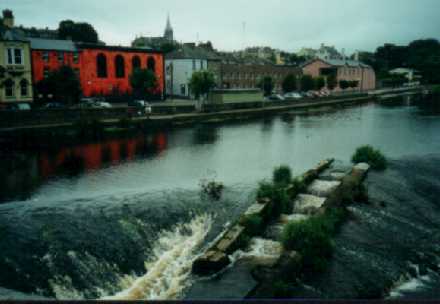 Blarney Woollen Mills has a wide vari­ety of quality fashion knitwear and many different Irish souvenirs, therefore this was the ideal place for the Greek students to do some gift shopping. After an hour long spending spree we loaded the bus and continued on to the next part of our tour, which was 'The Cork City Gaol'. We were split into two groups and given a guided tour of the premises, which dates back to the late 1800's. We were informed of all the different happenings which occurred within the gaol while it was in use. We also got the opportunity to view an excellent computerised drama that emphasised, what the atmosphere was like within the gaol at the time. Once the guided tour had ended we travelled on into Cork City centre where the Greek students got some free time to do their last minute shopping before they departed for Greece early next morning.
Unfortunately the week had come to an end and Saturday morning had arrived. As all bags were packed and reloaded onto the bus, we Transition Year students had to bid our newly found Greek friends a tearful goodbye. It was a pleasure enter­taining them for a week and we had such great fun. We are currently in the process of organising our trip to Mytilene, which shall hopefully take place in Spring 2001. We're really looking forward to seeing them again.